Work in the morning and learn in the afternoon using AnyWare
With Learning Tree AnyWare™, you can attend live courses in our New York and Washington D.C. Education Centres between 2 p.m. and 9 p.m. BST – leaving you the morning and early afternoon to take care of business!
With AnyWare, you feel as if you are actually in the class. You'll participate in classroom discussions, IM the instructor, and view a real-time video of the classroom and participants. You can login from home, office, or anywhere you have a stable Internet connection.
Live Courses in New York & Washington, DC You Can Take from Anywhere!
IT and Technology Training
Click any topic below to find courses in that topic.
.NET/Visual Studio

Agile and Scrum

Apple Programming and Enterprise Integration

Azure

Big Data

Business Intelligence

Cloud Computing

Cyber Security

Java Programming

Microsoft Office

Mobile App Development

Networking and Virtualisation

Oracle

Python, Perl & C++

SharePoint

Software Development

SQL Server

UNIX and Linux

Web Development

Windows Systems
Management and Business Skills Training
Communication Skills

ITIL®®, COBIT® & TOGAF®

ITSM

Leadership and Professional Development

Lean Six Sigma
Enrol Today!
Because you'll be remotely accessing a dedicated workstation in the physical classroom, the number of AnyWare participants for each class is limited. Call today to reserve your space!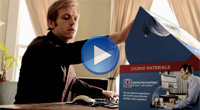 Experience AnyWare
Learning Tree AnyWare is more than just a simple audio stream or web presentation! Watch any or all of these 4 videos for complete details!
Work and train on the same day, when you train with AnyWare
Call 0800 282 353 and let us help you choose the best courses and dates for you.
Worldwide, over 7,500 students have sharpened their skills with AnyWare.
Course completion rates are every bit as impressive as for in-class attendees: a jaw dropping 97.8% of our AnyWare attendees finish the entire course.
Try AnyWare risk free with our 100% guarantee – if you are not totally satisfied with AnyWare, you may leave the course at no cost.
"I would definitely recommend AnyWare to my colleagues!...
Our instructor was very good interacting with the students both in the classroom and online through AnyWare."
– S. Esmaili,
Configuration Manager
Ericsson AB
Chat Now
My Learning Tree
Login / Create
My Learning Tree
LOGIN / CREATE
Login to My Learning Tree